21
Apr
2023
12:00pm (EST)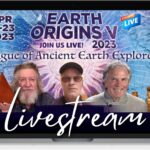 Earth Origins V Livestream/VOD Access — April 2023
A howtube® Livestream — Hosted by World Viewz Media–
Three full days of content!
The Earth Origins V Experience promises to be equal parts revealing, enlightening & entertaining. You will learn of the lost ancient technologies & esoteric principles that are re-emerging in our time, and how to apply them in your life. Historical, Technical and Spiritual Disclosures! This Gathering brings light to lost technologies & esoteric principles that have been hidden from humanity far too long!
Additional information about the
Earth Origins V Livestream/VOD Access — April 2023
April 21-23, 2023
LIVESTREAM/VOD ACCESS $72 @  howtube.com
Three full days of content!
*Purchasers will receive LIVE access to the event, or Video-On-Demand (VOD) access once the event has aired.*
From the event page:
"Earth Origins V Disclosure Experience is an event about lost ancient technologies and esoteric principles that, when recovered and applied, will advance humanity in the most balanced, harmonious way. Take part in restoring this knowledge to our world by first learning how to recapture it for yourself, and second, by applying it to your life in your own unique way. It's the personal application of knowledge that makes one wise, which is also the best way to inspire others.
This event features many great experts, teachers and researchers, all of whom are highly accomplished in their respective fields and at the top of their game. Leading the way is Randall Carlson. Randall is a famous cosmologist and an 8-time guest on the Joe Rogan Podcast who also played a pivotal role in Graham Hancock's mega-hit Netflix docuseries called Ancient Apocalypse. Mr. Carlson will deliver an impassioned, life-affirming presentation on "The Mysteries of The Holy Grail, 2.0". He will reveal the lost spiritual knowledge and technology (Yes, you read that right. There is a lost technology associated with The Grail), which has been hidden in "The Grail Mysteries" for thousands of years. The recovery of this lost knowledge has arrived.
NOTHING BRINGS SCIENCE AND SPIRIT TOGETHER BETTER THAN SOUND!

The Sedona Sound Healing Tribe will deliver a one of a kind sound healing experience with world renowned practitioners Joel Countryman, Cheshire's Herbals and Phaedra Mog of Sedona Sound Healing Tribe. You will be taken on an exceptionally high vibration meditation and sound healing journey. Crystal bowls, Tibetan and Nepalese bowls, drums, didgeridoos, gong, bells, chimes, rain stick, chanting and many other instruments are used. You will experience the high-science of sound integrating with your body that brings about a beautiful sensation of relaxation while allowing your mind to journey. Many people experience a profound spiritual connection with their soul and/or Higher Self that brings answers to deeply personal life-long questions."
Buy My Ticket
MORE ABOUT THE PRESENTERS

"Each and every presenter at Earth Origins V is a seasoned expert who have dedicated their lives to bringing forth lost knowledge from our hidden past that, once known, would change everything. For example, William Henry is a best selling author, investigative mythologist, art historian, and TV presenter who has a unique ability to incorporate historical, religious, spiritual, scientific and archaeological knowledge into his presentations. Mr. Henry has the all-important ability to provide the layperson with an in-depth understanding of ancient knowledge and how to apply it here and now. By bringing to life the ancient stories of ascension through art and Gnostic texts, he teaches the secrets of soul transfiguration, or metamorphosis, that connects people to one another across cultures, time and space."
SPEAKERS INCLUDE:
Randall Carlson
William Henry
Caroline Cory
Scott Wolter
Brien Foerster
Elias Arjan
Martin Gray
Hayley Ramsay
Dan Rogers
Carl Calleman
Gregorio Acuña
Alberto Haagar
In-Person/Livestream/VOD ticket options available thru
Click below for itinerary, tickets + more details
Buy My Ticket