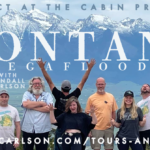 Montana Megafloods Tour — Sept 2023
This Fall we return to Montana and the Idaho Panhandle to trace and question the supposed path of the great 'Missoula Flood'; the proposed gradualist explanation for the incredible flooding that shaped many of the awe-inspiring Northwestern American landscapes we know today. Join Randall and gang as we attempt to deduce what really transpired here at the end of our most recent Ice Age.
Additional information about the
Montana Megafloods Tour — Sept 2023
September 18-23, 2023
Tickets available thru contactatthecabin.com
For the past five years, Grimerica has hosted what has come to be known as Contact at the Cabin, or CaC.
It's a meeting of guests/podcasters/fans mingling ideas and strategies about controversial topics and ancient fables over the course of a long weekend. The Brothers of The Serpent and Ben of UnchartedX have since joined this tradition.
Buy My Ticket
Details  and registration at
Click Below for Details
Buy My Ticket