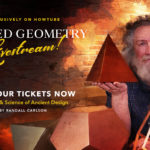 Sacred Geometry LIVESTREAM Workshop
This introductory weekend workshop with Randall instructs the student in the basic methods of Sacred Geometry as taught in the classical tradition using only straight edge and compasses for drawing arcs and circles. With this knowledge, the methods of great artists and the Master Builders of old can be reproduced and easily applied to your work and life.  We hope you join us.
Additional information about the
Sacred Geometry LIVESTREAM Workshop
Art & Science of Sacred Geometry
A Special Livestream with Randall Carlson
LIVE: August 13-14, 2022
Get Your Livestream Tickets &
Supplies Delivered Early.
» IN-PERSON TICKET
___________________
EVENT OVERVIEW
Randall has introduced thousands of people to the methods, symbolism, philosophy, and mysteries of Sacred Geometry through his lectures, classes and workshops for over four decades. If you have wondered what defines "Sacred Geometry" – what it is and what it means – this comprehensive workshop will provide the key that permits you to unlock the door of the Ancient Temple, allowing you to glimpse a magnificent kingdom of beauty, harmony and cosmic intelligence. The journey begins with a point and a line. Join us via howtube LIVESTREAM from the comfort of your own home – August 13 and 14, Streaming LIVE from Nashville, Tennessee.
LIVESTREAM & CUSTOM COMPASS
You will notice an option to buy the Livestream with, or without, a custom compass. In geometry, the compass is clearly an important tool, and the one being sold with this Livestream has been designed by Randall and his trusted colleagues. Every feature of the compass has a specific reason for existing; using the Randall Carlson Custom Compass with this workshop will therefore give you the best experience as you follow along, reproducing the drawing exercises at home.
START HERE TO SECURE YOUR LIVESTREAM ACCESS
This Livestream workshop is the perfect starting point to begin your Sacred Geometry journey with Randall Carlson. During this event, through your howtube Livestream interface, you will be able to chat with other participants in real-time and pose questions to Randall. Begin by securing your livestream access first.
CLICK BELOW FOR ALL PURCHASE OPTIONS AND SEE A VIDEO PREVIEW OF THIS EVENT FROM RANDALL.
Buy My Ticket