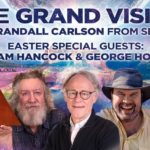 'The Grand Vision' Conference — Randall Carlson, Graham Hancock, George Howard — Sedona, AZ
Easter Weekend : April 15-17, 2022 — Special Guests Graham Hancock and George Howard of the Cosmic Tusk cosmictusk.com
Earth Day Weekend : April 22-24, 2022 — Special Guest David Mathisen of starmythworld.com and Hopi & Zuni brothers, Indigenous Blue Corn stories and mythologies connected to the "Seeds of Life"
*Livestream options available*
Additional information about the
'The Grand Vision' Conference — Randall Carlson, Graham Hancock, George Howard — Sedona, AZ
The Grand Vision of Randall's is to establish a School, Research Center, Conference Center, Retreat Facility, Village & Community. A great weekend of practical lectures to be filmed for review.
Spend a weekend with Randall exploring his work which incorporates Ancient Mythology, Astronomy, Earth Science, Paleontology, Symbolism, Sacred Geometry, Architecture, Geomancy, and other arcane and scientific traditions. For over 42 years he has presented classes, lectures, and multimedia programs synthesizing this information for students of the Mysteries.
Great information that is relevant for Homeschooling Teachers, Parents, Students, empowering them with old school comprehensive holistic learning; Theoretical, Practice, & Experience.
---
We have 2 weekends of content for those participating in these weekend seminar retreats. Attending one will give you online access to review both weekends digital recordings.
Easter Weekend : April 15-17, 2022 — Special Guests Graham Hancock and George Howard of the Cosmic Tusk cosmictusk.com
Earth Day Weekend : April 22-24, 2022 — Special Guest David Mathisen of starmythworld.com and Hopi & Zuni brothers, Indigenous Blue Corn stories and mythologies connected to the "Seeds of Life"
*Livestream options available*
Click below for details
Buy My Ticket